I don't actually have a work room. I do have a detached 2 room studio but I'm renting it out to a guy who lives in it. So, my studio is in the kitchen :)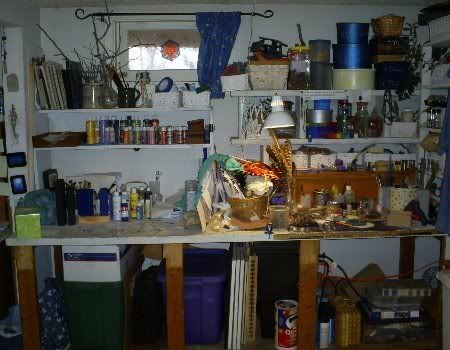 The whole studio area is one long work table that fills the entire end of our small kitchen. I've been meaning to get a skirt up along the bottom.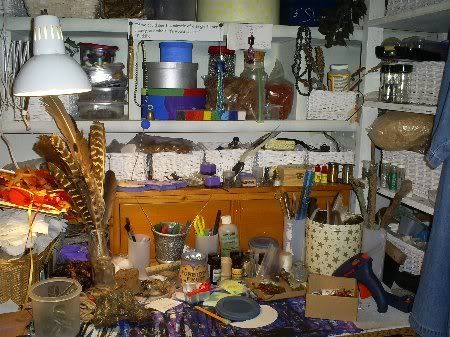 This is the Juju side, where I make dolls, Altar'd books and other odd things. It's very messy right now but it would be a lie to say it's ever any other way.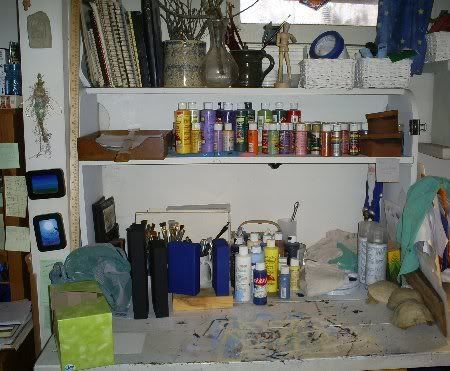 This is the painting side, I have some more blocks and some turtle shells i'm painting now. When I paint on canvas it gets awkward but i just scoot things around and it seems to always work out.
I store larger things like my sewing machine, bens of fabric, canvases and larger limbs and wood pieces under the table.
My beading box is under the futon and I make jewelry and sew in the living room.
Our house is 480 sq. ft. Most people don't believe that until they visit :) But it works perfectly for us. I just have to make sure everything is multi purpose :)
Someday my two great building dreams are a larger studio room and a greenhouse made with old windows and doors. But until then i'm very happy with my tiny studio in our tiny Burrow.